LS1 F-body Power Steering Pulley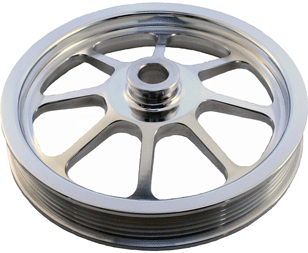 LS1 F-Body Power Steering Pulley
Shipping :
Priority Mail USA or International Priority Mail
Payments:
Paypal
Description :
Pulley is STOCK diameter. Pulley is press-on fitment. You need an installer device to press on. Please check with a mechanic if you haven't installed one. 6061 Aluminum.
ONLY FITS F-body. WILL NOT FIT CORVETTE. Currently we don't make the LS1 corvette pulley. Large openings allow the pump bolts to be removed from car while the pulley is still on the pump.