FEATURED

PRODUCTS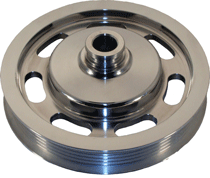 1994-1995 Mustang GT
Power Steering Pulley
6061 Billet Aluminum
$87.99 OUT OF STOCK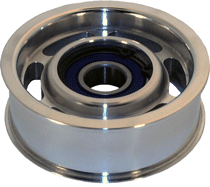 1994-1995 Mustang GT
Idler pulley
6061 Billet Aluminum
$56.99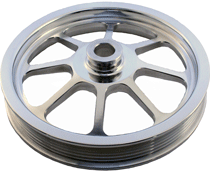 Corvette / F-body
C6 Tensioner
6061 Billet Aluminum
$99.99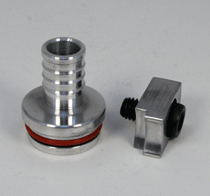 Pontiac Heater Hose Nipple
Billet Aluminum
$26.95
2014 Mission
Wazee's Website was down for a while due to an asset distribution, and the big "D" which took almost two years. It took months of trying to get nopcommerce and Umbraco to work after I moved the website to Godaddy. So this week I restarted the site from scratch and keeping it very simple. Our production is now back up and running. We are focusing on Mustang products that are out of stock which would be: 1994-1995 Mustang GT Power Steering pulley and the Idler Pulley. We will be also carrying numerous items in the billet sense that would complement our existing inventory. The website will also host a variety of technical articles from the old site. Please check back monthy for site and product improvements.
Thanks,
Mike Wazee
Nov 18, 2014 NOTICE******
SITE PAUSED TEMPORARILY DUE TO CONRACT
I will be shipping existing orders. 1995 Mustang Power Steering Pulleys are out of stock. They will be made then end of Dec/ beginning of January. Existing orders will be shipped.
I have a position as of now with the state. I am prohibited from doing any sales for at least ninety days to comply with not having additional sources of income.
Wazee's will be running full steam shortly.
Text directly to Mike 904-591-5803
July 15, 2014 ****UPDATE****
An update on power steering pulleys and idlers. The shop took longer than expected to get the previous machining job out and reprogram the machines for our parts. They slot was open yesterday for the idlers and power steering pulleys.
July 16, 2014 **UPDATE**
Both pulleys will be done this evening!! Parts will be shipped out late tonight or first thing thursday.